The Future of Telemedicine Technology With IoT and AI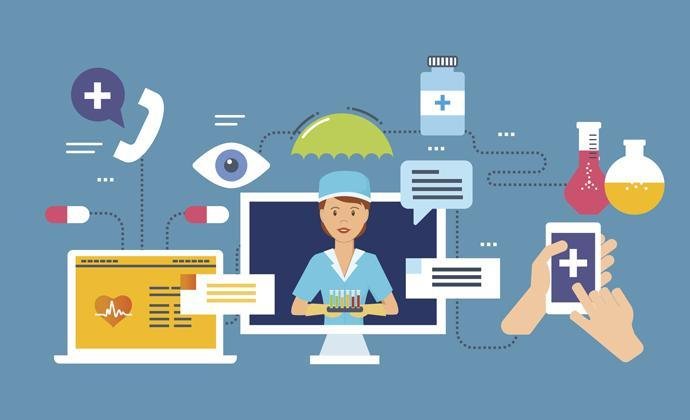 Summary: Technological evolution is serving every industry at its best. Especially during the COVID times, the world has turned towards instant services. With their online ventures and customer base, every industry is booming, from food deliveries to healthcare & eCommerce. One such industry that has received stagnant growth with evolving technologies- Healthcare. Let'sLet's talk more about it in this blog.
Over the last decade, the healthcare industry has flourished by leaps and bounds. Technological trends have changed the way of approaching professionals via telehealth, telemedicine, and other web & mobile app solutions. In recent times, "health apps" have seen steady growth. Countries like Newzealand, Australia, the UK, U.S.A. are among the top ones to use the advancements.

According to Fair Health Data, 5.3% of all medical claims in July 2022 were from telehealth visits, rising from 4.2% in July 2022.
With the advent of new physical devices to smart system integrations, new technological developments enable physicians and patients to interact in new ways, communicate important data in real time, and diagnose & treat life-threatening diseases faster than ever.
"Anywhere, anytime healthcare" is igniting the next wave of innovation & setting new consumer expectations. The online audience is becoming increasingly at ease with the idea of video consultations with their doctors, remote monitoring via health applications, and employing customized diagnostic tools in cellphones as a ready reckoner in the smartphone era.
Now telehealth and telemedicine apps have proven their value; they are here to stay.
The use of telehealth has enabled healthcare providers to treat an increased number of patients without physically being present. Videoconferencing introduced many providers to telehealth, but the next generation of telemedicine technology is here to offer much more. Clinicians will use natural language processing to take notes during a visit. During emergency procedures, specialists can weigh in remotely. And thus, all patients will benefit from a high level of care, no matter where they live.
Herein we are highlighting three top trends which will take healthcare app development services ahead of time.
Internet of Things
IoT implements medical devices for diagnostics. The technology also manages user-centric environments by providing self-monitoring facilities allowing one to skip hospital visits. IoT also goes hand-in-hand with the concept of telehealth with wearable wireless monitoring services.
For instance, a wireless monitoring device is connected to a glucometer connected to the insulin pump, which regulates rapid or short-acting insulin 24 hours a day through a catheter placed under the skin.
Convenience and quick access to critical information to prevent emergency scenarios are the key advantages of IoT for patients (the time to conduct vitals at home vs finding the time to go to a doctor). If it seems simple, practical, and fits into their busy schedules, people are more likely to take charge of and keep an eye on their health.
Besides monitoring a patient's health, IoT service helps hospitals organize their work. From tracking the real-time location of medical equipment to deploying medical staff at different locations. Thus, it cuts recruitment costs, helps manage patients at the correct time & provides a real-time health check as and when needed.
Main points of IoT and Telemedicine collaboration
Helps doctors in accessing important data through medical devices
Monitors patient's health in real-time
Assists senior citizens with every health facility in their houses
mHealth services at your fingertips
Artificial Intelligence
AI improves the healthcare industry in several ways. One of the very popular uses of it is automated health record analysis. With the help of machine learning, a large amount of medical data is identified and organized according to appropriate treatment to improve the patient care experience.
Another beautiful use of AI is virtual nursing assistants. Through natural language processing (NLP), the software understands patients' questions and responds to them with pertinent information from electronic health records. Such assistance is available 24/hours a day, seven days a week.
Apart from this, it predicts future health through predictive analytics, which helps evaluate patient symptoms and conduct surveys for physicians. For doctors, it helps in reminding & scheduling hospital visits as well as remote patient monitoring.
The global mHealth apps were estimated to be worth USD 38.2 billion in 2021 and are anticipated to increase at a CAGR of 11.8% from 2022 to 2030. With such an increase in the online health industry, there is ample opportunity for every health business to grow. Right from a fitness app, meditation app, diagnosing app, etc., you can develop any ideas into software solutions.
On a concluding note
Online healthcare is pivotal in growing the medical and health app industry. AI and IoT have a huge hand in making the industry up and running. With telehealth and telemedicine services, the technologies have brought patients closer to doctors and their treatments. For professionals, they have made every real-time possibility to meet and schedule appointments with patients. And for hospitals, it has brought a systematic revolution of handling every patient record, staff, and other equipment. Digital ventures are the sane way of growing the business in today's instant servicing world. Keep evolving with every tech advancement and app development online!
Read more: How Will The Internet Of Things Impact The Electric Vehicle Industry?