How to Find and Hire Dedicated .NET Developers in 2023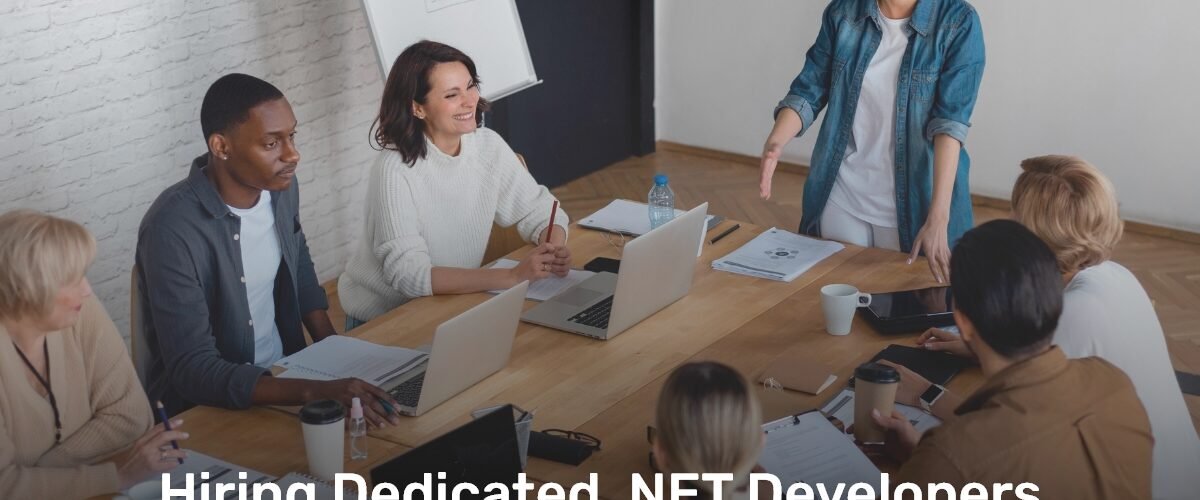 The .NET development framework is a popular, flexible platform that developers worldwide use to build applications, websites, and mobile apps. It can help businesses digitize their processes quickly and take them to the next level while boosting efficiency and convenience, all at a reduced cost.

For a successful outcome, you need an experienced team of professionals with the essential tech skills to drive it forward. When you hire .NET developers, you get professionals with a deep understanding of the platform architecture and technology stack, able to build reliable applications quickly.

Nowadays, many companies are turning to hire dedicated .NET developers as a way to meet their software development needs. This approach has become increasingly popular in recent years and is expected to grow even more in 2023. So let's look at the steps, benefits, and challenges of hiring dedicated .NET developers in 2023.
What do .NET Developers do?
A .NET developer is responsible for constructing and operating applications with Microsoft's .NET platform. Not only do they oversee crucial tasks like deploying and maintaining web-based APIs and backend services, but they also need to actively engage with the project stakeholders to gauge their application's performance and develop fixes to technical issues that may arise.
Challenges Involved in Hiring Dedicated .NET Developers
While staffing up with .NET developers may sound manageable, there are likely a few potential challenges that you should be aware of. Let's explore them now!
If a company is limited to an existing pool of resources when hiring, it could be detrimental to its project. They must broaden their access and evaluate the large range of talent in the marketplace. Failing to do so may mean missing out on having the skills needed for success! With more options comes greater flexibility, resulting in higher quality results – something all businesses should strive for!
Falling for Meager Salary Demands
Companies tight on their development budget will often look to hire dedicated .NET developers with fewer years of experience, which could work against them. With a smaller salary demand, they may be tempted to hire someone less experienced to save money; however, the quality of the outcome may suffer as a result!
It can be easy to skimp on hiring in-house resources and opt for cheaper freelancers when multiple projects need completing. However, it is essential to consider the quality of product delivery, project completion timelines, and cost savings. To get around this challenge, companies should focus on reputable .NET development firms offering dedicated .NET developers that fit your needs perfectly.
When hiring skilled .NET developers, companies must ensure that the team's personality fits the company's culture. Dedicated .NET developers should understand what the company values and how it works. If you can pick a team that will gel well and becomes part of your internal ecosystem, then this is an excellent way to ensure the successful delivery of the project.
Benefits of Hiring Dedicated .NET Developers
Now that we have discussed the potential challenges associated with hiring dedicated .NET developers, let's explore some of the benefits:
When you entrust a team of dedicated developers with your project, their full-time availability offers the comfort of knowing updates will be swiftly completed and projects promptly finished. With round-the-clock support available during work hours, rest assured that your development needs are met without tracking down personnel for assistance.
Speedier Development and Better quality
Dedicated developers frequently have more development experience than their in-house counterparts. Furthermore, they are often better equipped to work on various projects and technologies. As a result, they can utilize their expertise to deliver speedier results that are also of a higher quality.
End-to-End Project Management
Hiring a dedicated development team yields the significant advantage of delegating your entire project to them. From start to finish, you can trust that your project is in good hands and will be completed on time. This includes handling all the tedious tasks such as debugging, testing, and deployment so that you can focus on other essential aspects of your business.
How to Hire .NET Developers in 2023?
To hire proficient .NET developers by 2023, you must undergo a rigorous vetting process. This ought to cover the following areas (but are not limited to):
You must establish the technical aptitude of your chosen developer. Assess their previous work and ensure they have the right skill set to handle all your development needs effectively.
Another key concern is time availability. Check how many hours the team can dedicate to your project daily. Hiring .NET developers who are available full-time will incur additional costs, but it is worth paying the extra fees for resources considering benefits like speed and constant communication.
When selecting a .NET Development Company, don't make your decision only based on cost – compare the cost per resource offered by various companies and determine which gives you the perfect balance between budget and value. Evaluate how much they charge and their talent set to ensure you get maximum potential value for every penny spent.
Working Model (Remote or Onsite)
Before hiring any .NET developers, decide upon the working model that best suits your project. In most cases, it's wise to opt for a distributed model where development tasks are divided between remote offshore and local teams. This allows you to benefit from increased efficiency and cost savings simultaneously.
Lastly, look into each team's development portfolio and client history. This will give you an idea of their experience in the field and their success on previous projects. It's also worth considering how long they've been working together so that you can trust them to complete your project without any hiccups.
WeblineGlobal Simplifies Hiring .NET Developers!
If you're looking to hire .NET developers to work on your projects, then WeblineGlobal is a perfect choice. With our expansive network of expert developers, time-tested recruitment processes, and industry-leading development portfolio, we guarantee that each team member can provide you with the best results possible. So why wait? Contact us today to get started with your project!