Import MBOX Files into your Gmail account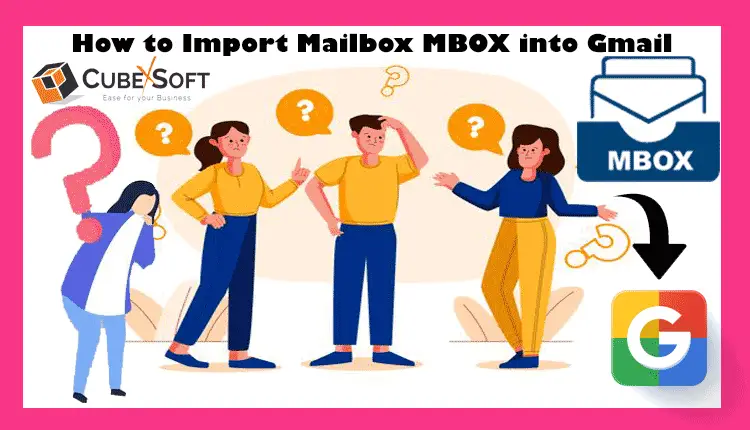 Do you have trouble finding a way to import MBOX files into your Gmail account? Here, we'll go through the whole step-by-step tutorial for quickly and safely importing large quantities of MBOX files. All types of MBOX and their variation files are supported by the solution that will be discussed here. So continue reading the article.
Google and other well-known email service providers do not natively support MBOX file import. Most users want to know: Can MBOX files be imported into Gmail? In this article, we'll introduce you to a tool that makes it easier for you to complete the full procedure. But first, let's familiarize ourselves with the Gmail platform and the MBOX file.
MBOX is a well-liked file format that many programs utilize to store their email messages. You're in the right place if you wish to import an MBOX file containing your emails into your Gmail account.
By following a few simple steps, you can import any MBOX file type, including those with or without extensions, into Gmail. If you want to move data from Thunderbird to Gmail, this approach is also workable. We'll lead you through a step-by-step tutorial on how to import MBOX files into your Gmail account in this blog post. Let's get going!
Reasons to Import MBOX to a Gmail Account "I have some MBOX files that I received from the Pocomail application, and I want to export these files into my individual Gmail account. Can I import MBOX files into my Gmail account using any method?
"Uploading many files into your Gmail account is not a simple operation. I want to import the 7GB worth of MBOX files I have on my local PC into my Gmail account. Please provide a solution that will enable me to achieve that.
Many users are looking for a way to import MBOX files into their personal Gmail accounts, as mentioned above. As a result, we have addressed these difficulties in this article and offered the best option for importing their data without running into any problems or constraints.
MBOX Files are Supported by Gmail?
MBOX files are supported by Gmail, but not in the way you'd like. All of Gmail's emails can be downloaded in MBOX format using the Google Takeout service. The ability to immediately import this MBOX file into the Gmail account is not provided, though. So, in order to do the task, you need the software. You have the choice of using either expensive software or a free email client for your convenience.
Thunderbird's MBOX to Gmail upload Function
There are four steps in the process for using Thunderbird to upload an MBOX file to Gmail:
Step 1: Install an MBOX email client
Installing an email client that is compatible with the MBOX file format is the first step. We are using Mozilla Thunderbird in this case.
Step 2: Set up your Gmail account in this email program.
After the software has been installed, a screen asking for email configuration will display.
Name, Gmail email address, and Gmail email password must be entered before clicking Continue.
Select IMAP and press the Finish button.
When Google requests your consent, click Allow.
Let the email messages synchronize and then wait for them to show up on the email client interface.
Step 3: Add the MBOX file to your email program.
Go to Tools, then Account Settings, after the account has been successfully added.
When you select Local Folders, the path to the local directory shows.
Your MBOX file(s) should be copied and pasted to this directory. Then, restart Thunderbird.
The Local Folder section now includes the MBOX data.
Step 4: Move the MBOX emails into your Gmail account.
First, from the Thunderbird interface, pick each MBOX email.
Choose Move to from the context menu when you right-click one of the chosen emails.
The folder inside it after choosing the Gmail account's name.
All emails have now been successfully transferred to the Gmail account.
Open your Gmail account in a browser and let the emails.
Simple Toolkit: Import MBOX to Gmail Account
Get CubexSoft MBOX to Gmail Tool. One of the greatest automated methods for users to add numerous files to their Gmail accounts is MBOX Migrator Tool. Users can quickly and without any data loss import an infinite amount of emails and their attachments with this program.
The software can also keep track of email attributes and metaproperties in addition to the complete data structure. Using this tool, you may import MBOX files into a variety of saving formats, including Entourage, Readable format, Spark, and more.
Read more: What are MBOX Files | How to Convert MBOX Files on Mac?