Top 5 Healthcare stocks of 2022: Stocks With Healthy Returns
Healthcare stocks are always on the watch list. In this year 2022, billions of funds were raised in the healthcare sector and its market size is expanding like the universe.
On the other hand, the number of patients also increased due to Covid-19. And, a drastic change was noticed in the spending of patients.
According to the report, health spending was 9.7% in the U.S which reached nearly 4.1 trillion dollars in this financial year. This growth rate is substantially higher than in 2019.
Simultaneously, healthcare startups were also taking place in the market, showing a signal of rising healthcare stocks.
So, let's see which are the burning stocks of this year. We'll also discuss how to select the healthcare stock, Do healthcare stocks give good returns? And what are the risk factors associated with it?
Top 5 Healthcare stocks of 2022
These stocks have good financial ratios and are also trending stocks this year.
#1. UnitedHealth Group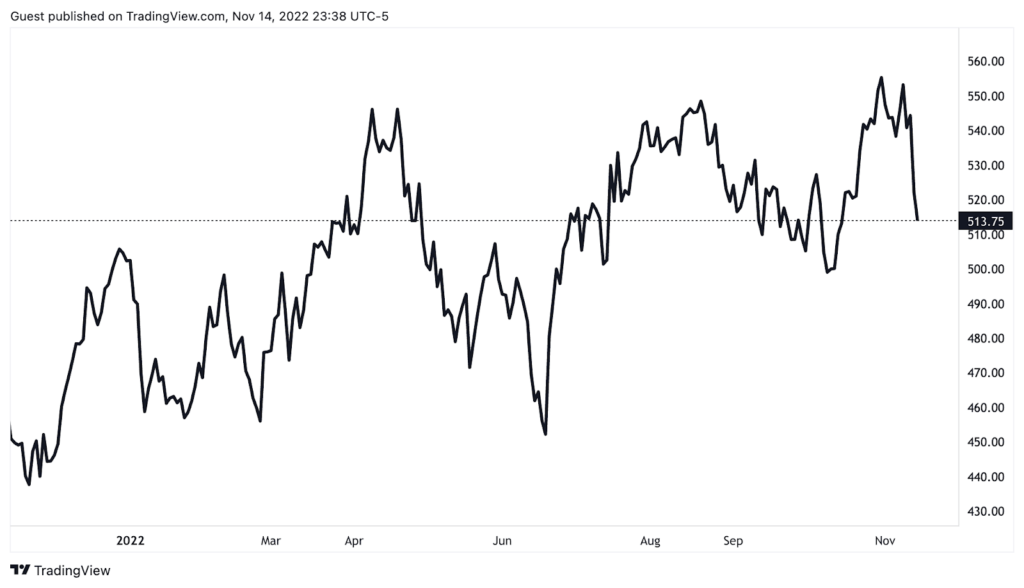 Image link: Trading view
Market cap: 487.805B USD
EPS (earning per share): 20.71 USD
Dividend yield: 1.26%
P/E: 25.57
Why we choose it:
United Healthcare is the biggest insurance company in the U.S. It was founded in 1977. The company provides numerous health insurance plans which are attached to other healthcare benefits like health saving accounts.
The company covers a major portion of the healthcare market size. In addition, it has a good record of paying regular dividends to its shareholders.
#2. Pfizer
Image link: Trading view
Market cap: 267.194 USD
EPS (earning per share): 5.31 USD
Dividend yield: 3.36%
P/E: 9.17
Why we choose it:
Pfizer is a pharmaceutical company that makes medicines, vaccines, and some healthcare products. Its headquarters are in New York and other than that they have more than 50+ operation centers all around the world.
A major portion of the revenue was generated from the U.S. Recently, Pfizer was successful in discovering the covid-19 vaccine during the pandemic.
In addition, Pfizer has also discovered top-selling pharmaceuticals including the antidepressant Zoloft, the erectile-dysfunction drug Viagra and the anti-anxiety drug Xanax.
#3. Align technology
Image link: Trading view
Market cap: 17.105B USD
EPS (earning per share): 6.50 USD
Dividend yield: NA
P/E: 33.87
Why we choose it:
It is an American manufacturer of 3D digital scanners and Invisalign(clear align system) used in orthodontics. The headquarters are located in Tempe and Arizona.
The clear align system manufactured by the company has been used to treat more than 12.2 million patients worldwide. The company has shown good returns in the last 3 years. In addition, the company has maintained its cash flow.
#4. Abbott Laboratories
Image link: Trading view
Market cap: 181.489B USD
EPS (earning per share): 4.47 USD
Dividend yield: 1.81%
P/E: 23.48
Why we choose it:
The company is a large developer of pharmaceuticals and medical devices. Perhaps, Abbott is known for its most consumables such as Pediasure and Pedialyte.
Although, the company has good financial credentials and it also pays a regular dividend to its shareholder.
#5. Teladoc health
Image link: Trading view
Market cap: 5.394B USD
EPS (earning per share): -61.32 USD
Dividend yield: NA
P/E: NA
Why we choose it:
The most important reason to choose this particular stock is that it is one of the top telemedicine stocks. Telemedicine is a trending health-tech solution used to treat patients virtually. The cost to develop the best telemedicine app is minimal these days.
The pandemic increased the adoption of virtual care facilities and day-by-by care facilities are transferring online. Patients are able to get care in their comfort zone.
But, teladoc's growth slowed down as life returned to normal after the pandemic. Its stocks have fallen significantly.
However, the biggest positive side of the stocks is its financials, which are strong enough to sustain and grab the market in the future.
How to select the best healthcare stocks?
Selecting a stock is like a lottery ticket. People avoid the most key aspects of a particular industry. Every industry has different financial ratios and growth rates as well.
Similarly, healthcare stocks have different financial credentials to focus on and some other facts which are necessary to consider while investing.
Financial Credentials:
Financial credentials include valuation, EPS(earning per share), ROCE(return on capital employed), ROE( return on equity), net debt, P/E ratio, and other financial credentials.
Another important financial strength is the free cash flow generated by the company. Because cash outflows support its operations and maintain the capital assets of the company.
Growth prospects:
The most important thing one should consider while investing in healthcare stocks is the growth prospects and how the company is generating its revenue.
Determine how faster the revenue is generated in the last few years. Because if the company would not be able to touch off revenue growth in the present then it might not be in the future.
Tech friendly:
So far, Healthcare has adopted technology in care facilities and with the changing time, it will increase more.
So, if the company is not tech friendly and is not utilizing technological solutions then it might keep them back in the race.
Because, new health-tech start-ups are participating in the market and bringing tech-friendly solutions like medical practice management software, telemedicine, transparent pharmacy, and so on.
Dividend:
A strong financial and growing company will always be able to sustain itself in the market which can be determined by the dividend they are paying.
If the company is paying regular dividends to its shareholders then it is a very positive sign of that particular stock.
Company vision:
It is important to understand the vision of the company. Does the company's vision align with the future? If the answer is "YES" then it has the good potential to be at the top of the table in the future.
However, if the company is operating in the wrong market and is not future-oriented. Then it's a negative signal of it.
Final words
Although, healthcare stocks give a good return. And from the very beginning, healthcare plays a critical role in the economy of any country.
However, It is associated with some risk factors. Every stock is associated with some risk factors but having less risk means a healthy stock.