Best Free Nonprofit Website Hosting
Many free website builders are available nowadays; however, others are too limited to be useful for a serious website. Free nonprofit web hosting requires a strong internet presence in today's world, and you should not waste time and resources in constructing a site that portrays your organization as unprofessional. Lookup a Free Nonprofit Website Hosting Provider with the best features because that will help your Nonprofit Organisation grow.
What Do We Look For in the Best Website Builders for Nonprofits?
Here are some features that one should look for in a NonProfit Website Hosting Company-
We understand that as a nonprofit, you must develop a website on a shoestring budget. The website builders provide acceptable free plans and allow you to create a basic website for no cost, which should be preferred. They should also have several useful add-ons that are reasonably priced.
Best websites for Nonprofits should have options (free or as add-ons) that allow you to reach out to your target audience and earn donations quickly.
The top website builders provide resources like contribution interfaces, mailing list options, and the ability to connect your website with your social media accounts to help your nonprofit thrive online.
Prefer an easy-to-use user interface. You don't want to waste time figuring out how to use a website builder for nonprofits.
A well-designed and visually appealing website will increase your credibility, instilling trust in your nonprofit among potential donors.
These features will help you achieve the best!
Are there any Best Website Builders for Nonprofits?
We have curated a list of the best NonProfit Website hosting Builders who provide excellent features and support to Nonprofit Organisations when it comes to Web Hosting-
Googiehost
GoogieHost offers Free NonProfit Hosting for NGOs!
With GoogieHost, any semi-government or start-up NGO can construct a free website. All that is required is submitting the NGO's accreditation papers and other official paperwork. They'll begin the process of launching your NGO online after all of the paperwork has been cross-verified.
The best part is that our developers will handle the time-consuming task of developing 5 Web pages for free, and their professional staff will handle your website's ON-PAGE SEO. All you have to do now is provide the material you want to show on your website.
Features
GoogieHost provides Free Web Hosting for a lifetime to the NGOs.
Sub-domains are essential and easy to remember. The company provides it free of cost.
Do not worry about the security of your website. GoogieHost provides encrypted security with their plans.
Build your site with unlimited options like templates, languages, etc.as per your choices.
Direct Admin Control Panel
You can quickly operate your site with the Best Dashboard for Free NGO Hosting with a user-friendly interface.
Free Customer Support that too 24/7/365 for NGOs! Get services and solutions to all your website-related problems for free and all the time!
You can go with the best and most trusted NonProfit Web Builders to build a successful NonProfit Website. It is also provided free wordpress hosting that optimizes your wordpress site.
Wix
Wix features roughly 20 layouts developed exclusively for nonprofit websites, all of which are totally customisable. You may alter colors and fonts, create additional pages, and even add free applications to your site for added functionality using the simple editor provided by Wix for nonprofits.
Features
This powerful tool makes adding text and content to your web pages a breeze. You will always have a preview of how your website and editing options are in accordance with what you like.
Wix offers drag-and-drop apps in some templates that allow volunteers to sign up, subscribe to a mailing list, and make direct donations.
You don't need to be an SEO specialist to get your website to rank well on search engine results pages.
If your website isn't mobile-friendly, you'll lose valuable ranking.
Wix creates mobile-friendly versions of your website also because those are optimized for various screen sizes so that you can further customize using the dedicated mobile view editor.
People love Wix for many reasons, and some are stated above.
Just make sure you like the template you choose because Wix won't let you change it once it's live unless you rebuild the entire site.
Square space
Square Space is not an entirely Free Nonprofit Website Builder.
Squarespace offers a 14-day free trial (no credit/debit card necessary) during which you can create and test your website.
Aside from that, you'll have to pay to have your website published and get it shared with your audience.
Squarespace websites are regarded as having a professional appearance, which gives your nonprofit an added degree of credibility when seeking assistance from larger companies, so it's worth the investment.
Features
A Donation Button is available–
You don't need to interface with or outsource a third-party service because Squarespace has a built-in contribution button module. You can change the button's appearance, add form fields, and offer donation amounts and tiers.
Data Extraction with Intelligence–
When you collect information through contact forms, Squarespace may export donation or volunteer information directly to a spreadsheet or your email marketing programme.
Squarespace understands if you frequently change your mind. Your site content will automatically import into your new template if you alter your template during as well as after the design process.
For clients of all levels, Squarespace provides 24/7 services. Being available for the customers at all times is their aim.
Though Square Space provides paid services, it covers that shortcoming with its excellent features and by being money worth buying.
Weebly
Weebly makes it simple to create a beautiful website, blog, or online store. Weebly's themes are more structured, with basic principles to follow when creating a NonProfit Website.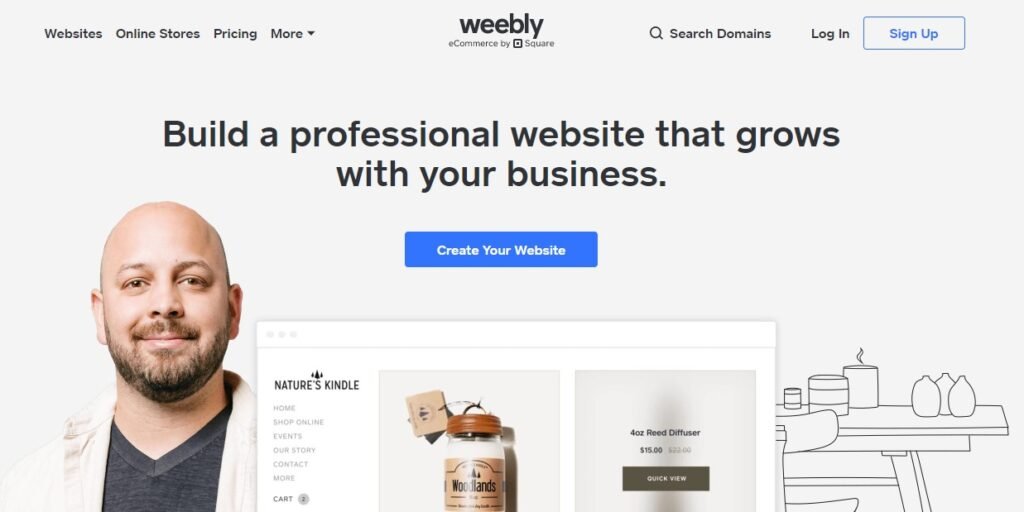 Weebly has a lot of built-in capabilities as well as an App Center for further functionality.
Though Weebly is more focused on eCommerce, they provide a variety of themes for various types of websites, but a single theme for NGOs.
You'll need to opt for their paid plans for primary and required features.
Features
Weebly's eCommerce platform lets you manage and track your inventory, track coupon statistics and performance, and sell physical and digital products and services. Their shopping cart feature is incredibly user-friendly, and it allows customers to buy online and pick up in person.
Users can be added by manually entering their information or uploading a CSV file. Anyone can join your organization by registering on your website.
Weebly's Promote function includes pre-made templates for newsletters, promotions, product announcements, and events, among other things.
You can use this functionality to upload email lists or sync with member groups.
Mobile App Customisation–
Weebly's mobile app allows you to modify your site, publish blogs, and view detailed statistics right from your phone.No matter where you are, keep your website updated and on top of your digital presence.
Weebly is not a Free Web Hosting for Nonprofits. It concludes with a basic plan at certain pricing to avail of their extraordinary features.
Conclusion
Best Website Builder for Nonprofits is the one that provides excellent services and promotes the world or the NGO to reach out to people and make their mission reach houses so that a large number of people can find shelter and support.
Nonprofit Website Hosting, we talked about various Web Hosting Providers for Nonprofits, their features, and how they plan to provide their packages to NGOs.
Moving forward in accordance with the website you want to build and the one which suits your requirements, it should be an easy and trustable task.
Isn't it the best way to connect to people nowadays? As an NGO, what will be better than a Free Nonprofit Website to reach out to?
Read more: 3 Offbeat Website Development Features that can Make it Function Flawlessly