How to Recover Deleted Photos from Memory Cards
Memory cards are widely used in smartphones and camcorders. We capture beautiful moments on our devices and transfer them to our PC. What if we connect the memory card to our PC and we realize there is nothing? This can happen if the card goes faulty, corrupt, or formatted automatically. If you see an empty memory card and find nothing, there are ways to recover deleted photos.
You can restore deleted photos manually or with the help of the best data recovery software. The manual methods can only work if you connect the memory card frequently to the PC. Windows create an image of every folder on a regular basis. If the memory card is connected, it creates an image of that as well. If you have not connected the card for a long time, it may not have any image backup of the content. Let us try manual methods before we try the Best Photos Recovery App for Windows.
Recover Deleted Photos from Trash
If you have accidentally deleted photos from your memory card connected to a PC, you can find them in the Recycle Bin. This is the first place where you can look for deleted photos and other media files.
Step 1. Connect your memory card to your PC and press Win + D to access the Desktop screen.
Step 2. Double-click on the Recycle Bin icon to access your Windows Trash.
Step 3. Look for your deleted photos in the Recycle Bin.
Step 4. If found, hold down the Ctrl key and select the photos you wish to recover.
Step 5. Click on the 'Restore the Selected Items' button on the top.
Recover Deleted Photos from a Backup
If you have taken a backup of your memory card, you can quickly recover deleted photos from the backup location. Most of the time, we back up our memory card on a PC or on an external drive. If you have backed up the photos on the PC, it's easy to retrieve deleted photos. If you have taken a backup on the External drive, you will need to connect both the external drive and the memory card together to transfer photos from the backup drive to the memory card.
Recover Deleted Photos from Previous Folder
If you ever connected your memory card to your PC before you lost your photos, there are possibilities that you may have a folder history created. Windows can try and retrieve deleted photos from the previous folder. These steps are only effective if the File History and Windows Backup service is enabled previously. Try these steps to recover from the folder image.
Step 1. Connect the Memory card with the help of a USB card reader.
Step 2. Explore the USB card in Windows Explorer using the (Win + E) keys.
Step 3. Right-click on the memory card and click on the Properties option.
Step 4. Click on the Previous Version tab on the properties window and look for the folder properties.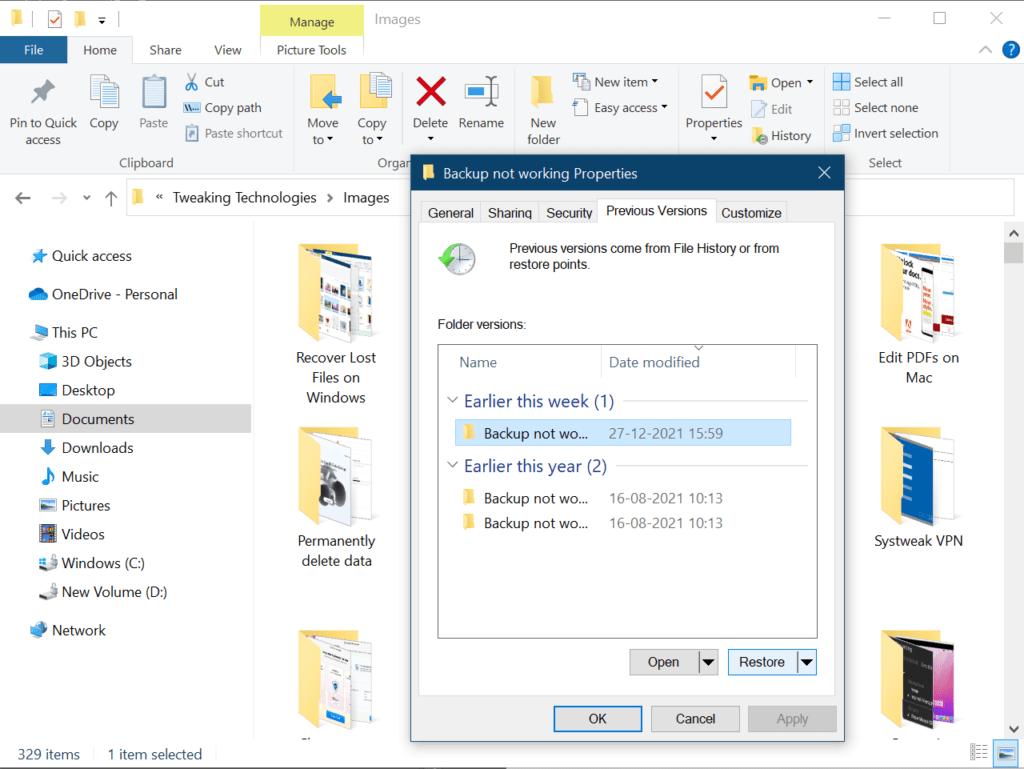 Step 5. Select the previous version after comparing the date and time. Click on the Restore button and then click on the Apply and OK buttons to restore from the previous version. This will restore photos from the file history and bring your photos back to the folder.
Restore Deleted Photos from Cloud Backup
If you use cloud backup like Google Drive, OneDrive, or Dropbox to backup your data, you can always recover deleted photos from the cloud storage space.
Step 1. Access your browser and sign in to your cloud account.
Step 2. Browse through your albums and look for photos that need to be recovered.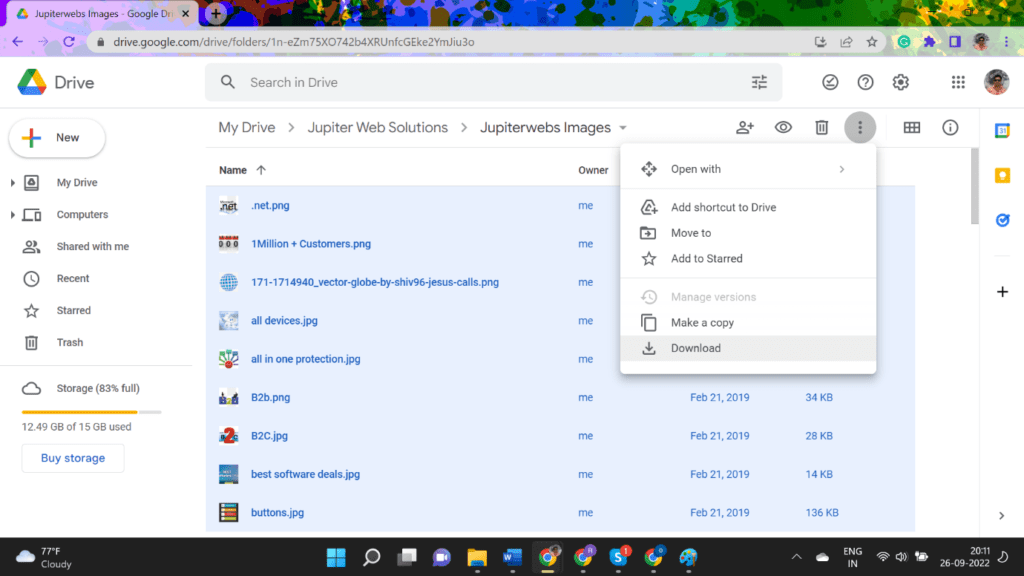 Step 3. Select the photos and download them on the PC.
Step 4. Copy and paste these photos on the memory card from your PC.
How to Recover Deleted Photos Using Photos Recovery App
If you have accidentally deleted photos from the memory card or any other external/internal storage device, the photos recovery app can easily recover them in just a few clicks.
Photos Recovery by Systweak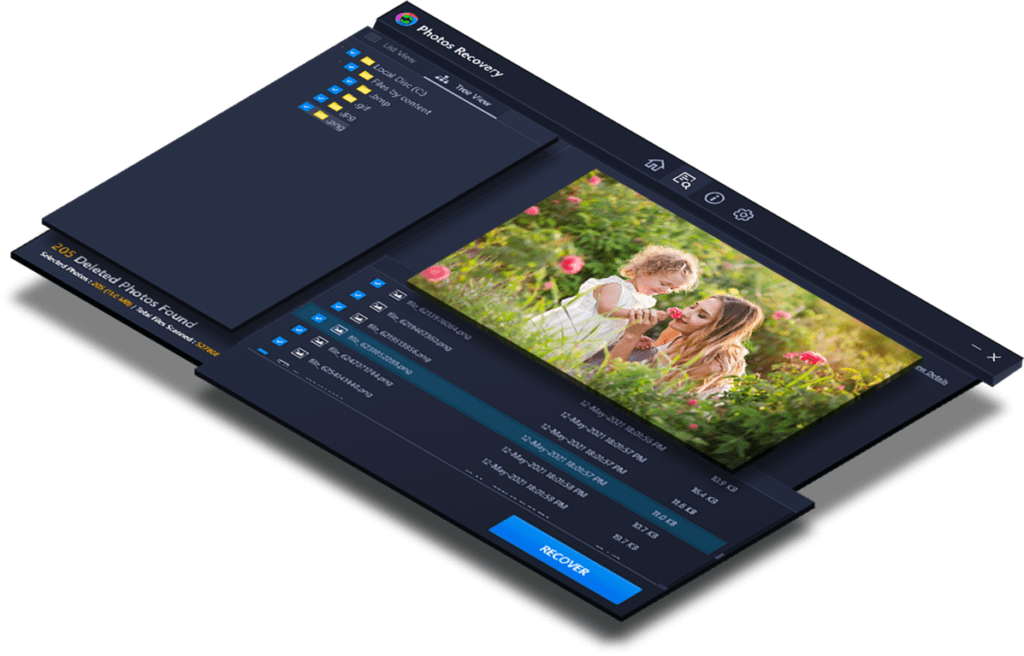 Photos Recovery app is a wonderful platform to recover deleted photos from any storage device. Not only photos, but you can also recover deleted videos, music, and other files from any storage device. You can recover media files from SD cards, Memory Cards, USB drives, Hard drives, Recycle Bin, and other storage devices with FAT, FAT 32, and NTFS file systems.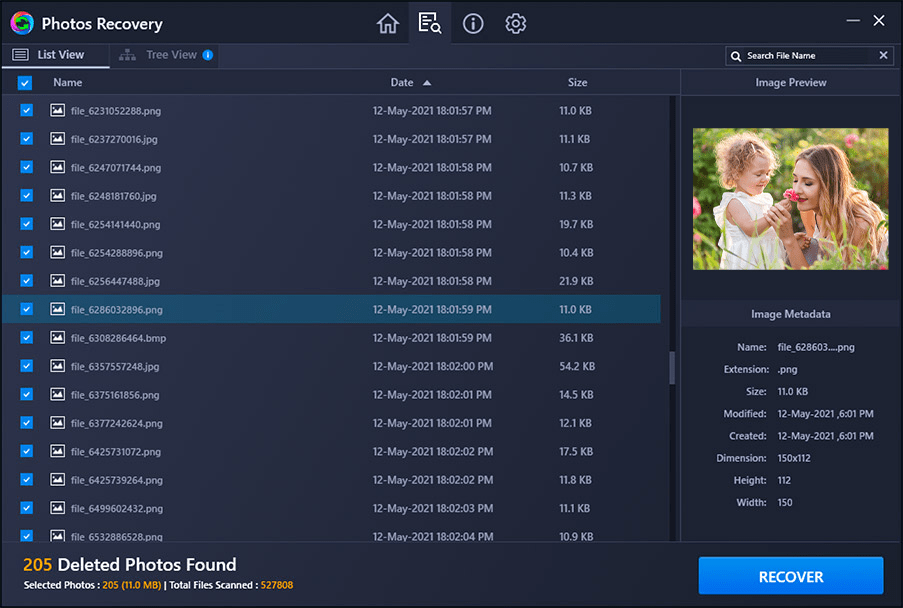 Photos Recovery is compatible with Windows 11/10/8.1/8/7 (both 32-bit & 64-bit) versions. The trial version will only perform a quick scan and a deep scan but you won't be able to recover anything. It is compatible with multiple images, audio and video file formats to scan and identify recoverable media files from formatted, corrupted, or crashed storage devices.
Final Words
This article on how to recover deleted photos has the best ways to restore deleted photos. The manual methods may not retrieve deleted photos from different situations. The best photo recovery software can quickly scan and list out all the recoverable media files. You can preview recoverable photos or videos and then recover them to their original location. Recover it up by Photos Recovery!
Read more: 8 Tips for Effectively Managing Software Developers