How Do I Convert a PDF to JPG without Losing Image Quality?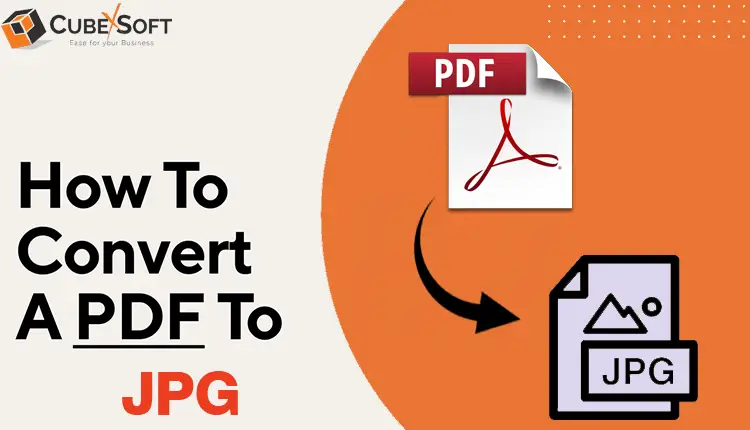 PDF is definitely one of the safest document format. It's utilized by millions of users to represent evidence and store documents. These days, lots of users are searching for the finest PDF to JPG Converter Tool. How do I convert a PDF to JPG without losing image quality? This is the most common search engine question. Well, you do not have to bother anymore.
Today's article will explain a perfect and easy approach for converting single/bulk PDF files to JPG or JPEG image format without any trouble.
PDF & JPG –Overview
Portable Document Format (PDF): PDF is a versatile document format developed by Adobe that maintains the fonts, design, formatting, and graphics of a file across different devices and platforms. It's normally utilized for sharing documents that must to be viewed and printed accurately as intended, irrespective of the program, OS (Operating System), or device being utilized.
Joint Photographic Experts Group (JPG): JPG, often referred to as JPEG, is a popular file format established by the Joint Photographic Experts Group. It uses a lossy compression technique to reduce file sizes while preserving acceptable image quality. JPG is appropriate for photos and pictures with gradients or intricate color variations.
PDF to JPG Converter to Convert PDF File to JPG File – Professionals' Choice
CubexSoft PDF to Image Converter is a professional and robust software for quickly change PDF docs into JPG format without losing image quality or formatting. It's an incredible solution to transfer and import PDF documents into JPG image file without losing any data. The tool is developed with advanced algorithm and execute the conversion procedure in a couple of seconds.
How Do I Convert a PDF to JPG without Losing Image Quality? – Complete Guide
First, download, install, and run High-Quality PDF to JPG Converter on your local operating system.
At this point, choose an option from Select Files (s) or Select Folder (s) to upload PDF Files and Folder. If you press the Select Files, you can add a PDF File whereas Select Folder enables you to add entire Folder containing lots of PDF files.
Then, select JPG as the saving file type and pick the wanted Destination Location to save the output data.
At last, tap on the Convert button to start the final process.
Highlighted and Useful Features of PDF to Image Tool
Multiple Conversion Options: A PDF to Image File Converter is designed to transfer image files from PDF to another formats such as JPG, PNG, SVG, GIF, TIFF, and BMP.
Batch Document Conversion: This batch conversion option allows users to change various PDF files in one go that can save you a lot of time when dealing with big amounts of files.
Intuitive Interface: A clear and user-friendly interface makes the program simple to use for both beginners as well as experienced users.
Platform Compatibility: The tool is compatible with all versions of Windows Operating System and Adobe Reader or Acrobat.
The Final Verdict
It is recommended to use a dependable and secure PDF to Image Converter Tool. In the article above, we outline one of the most straightforward method for converting PDF files to JPG images. It's an easy, quick, and well-liked solution. After converting an Adobe PDF document into a JPG at the user-specified location, results are 100% correct.
Read more: 2 Instant Solutions to Convert Gmail Emails to PDF