5 Ways Mobile Apps Are Transforming Education Sector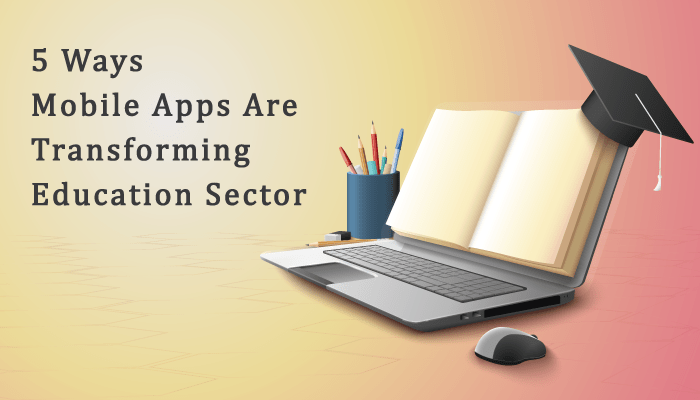 E-learning app development is the future of education.
You see, when Covid hit us in form of a pandemic, it affects every industry and every part of life. No free travel, no going outside the house, no regular education, and so on.
Now, one of the most affected parts is education. You see, traditionally if a student wants to attend any institute, they have to do it physically. Meaning they have to join a college and attend classes there and the same goes for the schools.
However, the airborne virus didn't allow us to do that. And this is where e-learning comes in. Today, this is one of the biggest industries.
The e-learning market could increase by $38.09 billion between 2020 and 2024. And it is expected that the global e-learning market is projected to be worth $325 Billion in 2025.In fact, E-learning increases retention rates by 25% to 60%.
This clearly shows the sudden growth of the e-learning market. Now, there are a lot of people who want to learn more about the impact of mobile apps on the education sector. In this section of the blog, we shall be discussing everything related to the same.
What Are Educational Mobile Apps?
So, what are educational mobile apps?
Popularly known as eLearning app or educational app, these are mobile application that delivers educational services to the user or in this case the students.
For instance, the user can attend a class via the app, access educational material via the app, communicate with teachers and other students, receive and submit assignments, and so on.
Some of the popular educational applications are, as mentioned below:
Student Management Systems
Assessment App
Virtual Classroom App
Medical Education Apps
Video Conferencing App
Massive Open Online Courses
Learning Management System
Online Tutoring Platform
These are some of the top forms of eLearning apps. Now, due to the pandemic, all of these become very popular. And these platforms have developed a lot of revenue. Moving on, we shall be discussing how these platforms changed the lives of billions of students in the next section of the blog.
Impact of eLearning Mobile Apps
So, time for the big question. How do eLearning mobile apps actually affect the world of education and the lives of the student?
Well, it takes no genius to see the impact. But it does point out what are these impacts. That is why in this section of the blog, we shall be going through the five ways in which mobile apps have changed the world of education.
Who knows, by the end of the blog, you might even hire an education app developerto create your own. Nevertheless, let's get right into it, starting with…
Accessible To More Students
The first way is accessibility.
You see, when you come to the school and classrooms, the size is limited. There are only so many students who can fix them. This is the reason why so many students compete to get into top schools.
Plus, considering the fact that the best education is only provided in top institutes of the USA, makes it is even more unfair for students.
However, this is where eLearning mobile apps come in. Via the help of classroom mobile apps, the student can attend virtual classes. Now the best part is, there is no limit to the number of people who can attend.
While a typical class would house 100 students, thousands of people could join. This is how mobile apps make education more accessible.
In addition to this, mobile phones are used by 90% of the world's population. Therefore, people living in remote areas who can't physically attend classes can do it via the app. This is the first benefit of this platform.
Moving on, we shall be looking at the second big way mobile apps have really changed the world of education.
Better Education at Lower Cost
Education isn't cheap. While there are some countries that provide education at extremely affordable rates, there are others like the United States of America especially that charge a fortune for good education, sending generations into debt.
This is one of the reasons why younger generations are getting into the "dropout trend" and finding other ways around life.
Needless to say, while there are a lot of ways to earn money and live a life, education is important. And without professionals like Doctors, engineers, and so on, society would stop functioning properly.
Coming back to the point, the reason, why a lot of companies hire Mobile App Development Company and create an eLearning solution, is that, these apps provide better education at fraction of the cost.
While a Harvard course can send back students hundreds of thousands of dollars, buying it via an eLearning platform will only cost a few thousand dollars at most. In fact, a lot of courses are also available for free.
More Attention Per Student
While there are many who would argue that with online education teachers aren't able to pay attention to individual students, the truth is the opposite.
In fact, in physical classes, individual students are often ignored who don't speak up for themselves. But with help of mobile apps which provide educational services, the problem is solved.
Let us tell you how.
You see, these apps come with amazing features and functionality. This includes an analytical system that allows teachers to track the engagement of each student and then provide them with appropriate attention.
This is one of the biggest and most influential ways in which these apps affect the educational industry, more specifically the student's performance, and academic lives.
Higher Engagement
See, whether it is android app development, iOS app, or hybrid one, all of them have one thing in common; they attract students and provide higher engagement.
Mobile apps have the inherent trait of demanding attention. And this is something that is clearly seen in the eLearning apps.
Well, it is safe to say that educational apps have delivered higher engagement than any classroom in past years. There are various reasons behind it, but we won't get too deep into that.
Nevertheless, this is one of the ways how these platforms affect the educational industry, certainly for the better.
Learn "At Your Own Pace"
It is often said that every student learns at their own pace.
However, this is something that was not practically applied due to the generalized education system where a class of students was taught not students of the class.
The idea of "learning at your own pace" was realized with the educational apps and platforms which allowed students to access lessons, repeat them, ask for help, and give tests, all at their own pace and how they wanted it.
They can take a month to finish it or a year, with no pressure and no compulsion. This in our eyes is the biggest impact of mobile apps in the education sector.
Conclusion
Elearning mobile apps or educational mobile apps are very popular. And in this blog, we saw how they changed the entire educational industry. Nevertheless, if you want to learn more about the same or want to create an eLearning app of your own, it is recommended that you consult a leading education app development company that will help you with the same.
Author Bio- Jermaine Trotman is the co-founder of Nimble AppGenie, a market leading,  Education App development company but not limited to that. Firm is renowned for it's eWallet, loan lending, and fintech app development solutions.