What Are the Benefits of Hiring Android Developers?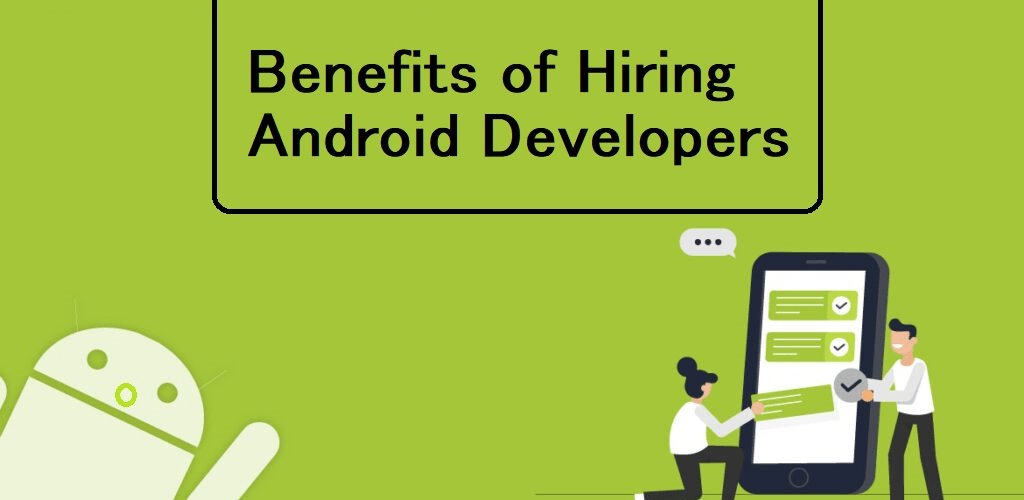 Today, digitization has penetrated in almost every business sector. The ventures, in some way or another, are bound with tech products to satisfy their purposes. It is because of the rise in tremendous demand among people for numerous items. To meet such requirements, entrepreneurs are compelled to automate certain processes of their enterprises.
Many already established organizations worldwide launched their solutions compatible to run on devices loaded with different operating systems. Out of those, only some managed to lift their names up, as people preferred to use selected operating systems. If we consider the current scenario, the platforms made for iOS and Android OS are being immensely utilized.
To be specific, Android wins the race, as it has the maximum preference of users. So, the demand for adding Android programmers to a team for building an application grew among entrepreneurs. In fact, 87% of developers are working on Android, as per the statistics of 2023. It is because of the terrific requirements for Android software everywhere.
Also Read Guide to Marketing Your Mobile App
If you are willing to develop an Android application for your business by appointing Android coders, then here are tips, perks, and several elements influencing the costs of the same discussed. You will get A-Z information about hiring them by reading these sections mentioned in a post.
How To Hire Android Programmers?
The usage of Android platform is burgeoning with every passing day among users, and so its demand in the market. Hence, you need to create a solution by keeping the requirements of people in the center, and it can be built by appointing Android developers from an IT firm. Refer to the guidelines stated below. It would assist you with the same.
Know Your Requirements
It is a fundamental and essential move you should execute before directly initializing the procedure for employing Andorid programmers. To figure out what your venture needs are? You should spot various contenders existing in your business segment operating their trades using an Android platform and analyze their apps in various ways. It involves knowing the features they provide, preferences of people, issues faced in accessing them, etc., which will assist you in building a fascinating solution capable of fulfilling user requirements efficiently.
Note The Attributes You Want
List all the features separately you have observed so far and mark the ones which you need to be implemented in an Android application you create by hiring developers. Remember that users always prefer utilizing such platforms which contain unique features fulfilling their requirements. So you should implement the specifications by which you are impressed and the ones tailored to meet the business requisites.
After deciding the particular attributes' set to be embedded, you should also structure the workflow of a solution that is understandable for users and is essential for coders to construct an app for your enterprise.
Enlist Various Tech Firms And Evaluate Them
Know the several IT companies allowing you to appoint their Android programmers to work on your project. Analyze them by various aspects, which involves checking the strength of an Android team, industry experience, evaluating the quality of platforms, reading the previous clients' reviews, etc. Thus, gaining such information about the firms would help you choose an appropriate one for hiring developers to build an Android solution for your venture.
Also Read Mistakes to Avoid While Developing a Mobile Application
Set Budget
Every company has its pricing page, with various rates for appointing their coders. So you should get a quote from all the firms you have filtered so far by certain criteria discussed in the above point. Analyze those cost estimations and set the budget for developing your Android solution. Fix the budget in a way that you can get your desired platform ready from their programmers.
Appoint Android Developer
You should hire dedicated Android coder from a specific technology partner whose prices match your set budget, has good customer reviews, and satisfies many other criteria set by you. Plus, you should also finalize the timeline of your project and the duration of complimentary post-development support to be provided by them. Alongside this, please ensure that you assign a proper timeline; otherwise, it will result you in paying significant charges.
By following the above suggestions, you can employ an Android programmer from a company that is able to serve you with top-notch solution for your enterprise. There are certain positives you will receive by recruiting the Android coders mentioned in the next section.
Certain Advantages of Appointing Android Developers
There are many organizations that are getting their Android platform ready by hiring programmers convenient for building such applications. They might have observed several benefits for the same. So, if you are willing to know those benefits, here are some stated below that you will gain by appointing them.
Pocket-Friendly Prices
You can receive Android software built within minimal time by appointing a developer, as they can integrate mediator platforms effortlessly without any hassles. Moreover, Android development is much easier to learn; the coders can make an app rapidly without any hassles, which consumes minimal time to get an Andorid solution. As a result, due to the meager time of constructing an Android application, it would reduce the costs of the same to a considerable extent.
In addition, compared to other platforms, the programmers must pay the registration charges once, which will prove to be a prominent decision to appoint Android coders.
Anytime Availability
Hiring an Android developer from a technology partner will ensure you a round-the-clock availability of team for your project. They are capable of working in different time zones so that you can track the progress completely in your presence from the start till the end of hours. However, you will also gain 24/7 support from the team during or after office hours, which will get your issues cleared at any time.
Google Support
There are 3.3 million apps being published on the play store, and each of them has achieved user traction up to some level. The flooding of applications on a play store indicates the support provided by Google to Android programmers in numerous means. It involves offering them to fix certain issues popping up while creating software, improvising overall security, clearing specific errors, etc.
Plus, the hassles of managing Android app indexing are cut off, as Google would automatically index based on the feedback and ratings given to it. So, it's advisable for you to appoint Android coders from an IT company to gain many pluses of Google support.
Regular Updates
Appointing Android coders means you don't have to interrupt the development process. You will get detailed information related to certain elements of your projects they have worked on a particular day. Besides this, if there is any obstacle during the ongoing procedure, they will approach you to take suitable action regarding the same. Hence, it is suggested to recruit Android programmers from a specific IT company.
Streamlined Customizations
As discussed in a previous point that Android softwares are supported by Google, and its support is also extended to modifying the functionality of a solution. Making an application by hiring an Android programmer, you would receive assistance from Google in almost every app customization aspect, which includes editing the brand logo of your venture, UI/UX elements, attributes, and many more.
It says that adding Android coders to your team is suggestible, as the modifications can be done to a great extent with the help of Google.
Also Read Different Concepts of Digital Marketing
Secured Platforms
An Android operating system launches its update every year by upgrading its security policy and offering security patches on smartphones geared with it. Hence, the developer needs to create a solution matching the security standards set by Android that are being continuously updated within specific time intervals. It would provide maximum authenticity within an application to users and retain them by winning their trust and keeping their data far away from vicious network users.
Thus, you will receive the above-discussed perks by investing in appointing Android programmers from a technology partner. But, on the basis of which parameters the rates of hiring them are estimated are mentioned in the following section.
Factors Affecting The Cost of Recruiting Android Coders
What if the charges to appoint an Android developer can be kept under control? You might be willing to decrement the cost of appointing them. Probably you can, by keeping an eye on the below stated certain aspects affecting the costs of employing programmers working on Android.
Complexity
The difficulties faced by a team in making an application contribute to the complicacy of software. There are many other parameters influencing the complexity of a solution while building it, which include the number of specifications, size, flow, etc. Along with considering all those factors, coders are required to deal with the technical complexity of a particular language associated with creating an Andorid app. So, keeping a minimal complicacy of your platform can neutralize the costs to some extent.
Amount of Time Consumed
Complexity is a key parameter affecting the particular amount of duration drained behind constructing an application. Hence, the rates of hiring Android programmers would rise high due to the significant time required for developing software. In addition, they also need to stick to their company's standards along with embedding the features you want inside. All these elements eventually lead to paying skyrocketed coder fees.
Also Read What Are Ad Google Settings?
Design
It's also a vital component responsible for the prices of appointing developers working on Android. There are many constituents within the software that are responsible for the rates of recruiting Android programmers. They need to gear the features accordingly, along with maintaining the pre-decided flow of a solution. Thus, it's advisable for you to create a simplistic yet distinct design of a platform through which you can keep the prices of building an application in your command.
No. of Programmers Occupied
The charges for hiring developers would be decided based on the number of individuals engaged to work on your project. The particular company requires to pay a certain amount to them and hold the progress of other projects until yours is terminated entirely. The prices for appointing would be higher for more programmers tenant by a firm for completing your project. So, it's advisable for you to keep your requirements limited, which would diminish the need for employing considerable coders and so the costs.
The Location of Developers
Geographical regions play a major role in the rates of building Android software in numerous aspects by recruiting Android programmers. It includes lifestyle, fees for publishing an application, charges for accessing exclusive features of specific languages, databases, etc. Hence, you should appoint developers belonging to a country from where you can receive an Android solution ready at a reasonable price. Below is a table displaying the different fees for hiring coders on an hourly basis mentioned.
| Nations | Charges Per Hour(in USD) |
| --- | --- |
| Canada | $55 – $90 |
| Netherland | $45 – $80 |
| India | $35 – $65 |
| USA | $45 – $95 |
| Australia | $85 – $130 |
| Switzerland | $80 – $105 |
Apart from these parameters stated above, there are numerous elements responsible for inflating the prices of building Android applications. They can be avoided by following numerous strategies and would assist you to lower the costs of appointing programmers convenient in Android.
Summing Up:
As per the current scenario, it's a task for enterprises to satisfy people's purposes due to the trend of accomplishing every task using mobile phones with various operating systems. The devices armed with Android are significantly utilized worldwide by most users, which clearly indicates the high requirement for Android software.
If you are pumped up to create such a solution for your venture by hiring Android developers, then here are some tips, benefits, and several factors influencing the fees of appointing them mentioned. Reading them will give you complete information regarding the same and assist you in recruiting perfect-match coders.
Read more: The Benefits of Hiring Influencers: A Guide to Effective Marketing Investments