Facts About WordPress Development That You Need To Know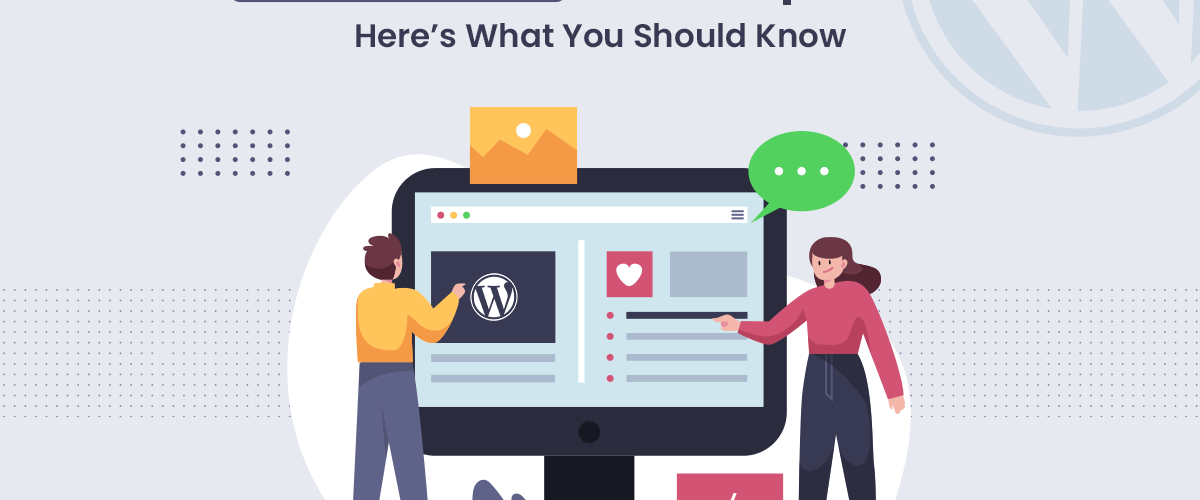 WordPress is an open-source platform that is available in the market to develop quality business sites. WordPress development covers designing, developing, and maintaining WordPress sites.
If we look at the numbers, there are around 1.3 billion websites over the internet as of 2022. And from that, 708 million sites are developed over the WordPress platform. Additionally, it is expected that the number of sites on WordPress is going to grow in the future keeping the current downloads in mind.
There was a time when WordPress development was all about creating online publishing and blogging sites; however, with time it has changed and now various types of websites are developed using WordPress.
So, let's see why many businesses prefer to choose WordPress over other platforms in the market.
What is WordPress?
WordPress is an open-source content management system. WordPress has been extensively used for developing business sites and eCommerce stores. It is an ideal solution for startups or large enterprises and offers them usability, flexibility, and scalability to grow and expand as needed. With WordPress, you can develop any kind of website, and WordPress themes and plugins will help you add the required functionality that you desire.
Who is a WordPress Developer?
A WordPress developer is responsible for designing, developing, and implementing websites using the WordPress platform for businesses. WordPress developers will take care of it by leveraging their knowledge of the ecosystem, whether it is about developing something new or making some improvements.
It is important for WordPress developers to have the best knowledge of the platform to build robust solutions that power businesses by meeting their needs. An experienced WordPress development company will have all types of WordPress developers onboard to handle clients' development needs.
There are three specific types of WordPress developers. They are:
These developers work on the backend operations within the WordPress software. They work towards improving the functionality of the WordPress platform by writing quality codes.
WordPress Theme Developer
The role of WordPress Theme developers is to build custom themes. Such themes are either developed for a third-party marketplace like themeforest.net or for some individual clients. Such themes can also be shared on WordPress Theme Directory so that they can be used for free.
WordPress Plugin Developer
WordPress Plugin developers are responsible for creating custom plugins. Just like theme developers they also develop plugins for third-party sites or individual clients or share them on the directory for free.
Advantages of WordPress Development
WordPress development offers a number of benefits to business clients from a different perspective. They are:
WordPress is quite simple to use, manage or install. You are not required to have deep knowledge of the WordPress platform to work on it irrespective of the different coding languages it uses.
You can find the WordPress software on WordPress.org for free. However, for WordPress development services, you will be required to make payments for the domain name and for web hosting.
Using WordPress, you will be able to create a large variety of websites.
With WordPress, search engine optimization gets simpler. This way it becomes easier to insert keywords and header tags into the site without much effort. Again, to keep your SEO initiative in check, it offers a number of plugins.
Developers from around the world are contributing and collaborating with WordPress to improve its functionality. They boost the performance of the platform by contributing to the platform regularly. A large number of plugins and themes are available with WordPress which you can choose or go ahead with custom development.
It is possible to customize WordPress development themes. Developers will be able to have better control over the design and layout of the site when they work with advanced WordPress themes. Such themes generally work as page builders.
WordPress is available for free and so any company in WordPress development services can use it. The platform is not owned by any company or firm.
WordPress offers support for different media types. You can upload documents, videos, and audio using different formats on the platform.
WordPress has a strong team of core software developers and users that together form its dedicated website security team.
So, why hire a WordPress developer?
When it comes to developing a company website, businesses generally prefer to go for WordPress development. The platform helps you add in newer functionalities with plugins and helps you have pixel-perfect UI with customizable themes.
It helps businesses to keep up with the latest technologies while implementing their new creative ideas. Even though WordPress is an amazing platform that comes with distinctive tools, you will still need to hire a WordPress development company to develop and maintain your website. WordPress developers with deep knowledge and skills will be able to build a website that helps businesses bring in more leads while lowering bounce rates drastically.
Conclusion
WordPress development has helped many business clients to find a strong foothold in the digital market for themselves. From designing and implementing an engaging website to adding plugins for enhanced functionality, WordPress developers have a key role in achieving business success.
Read more: What Should I Consider When Hiring A WordPress Development Company?