Popular UI UX trends that Gained the Momentum in 2020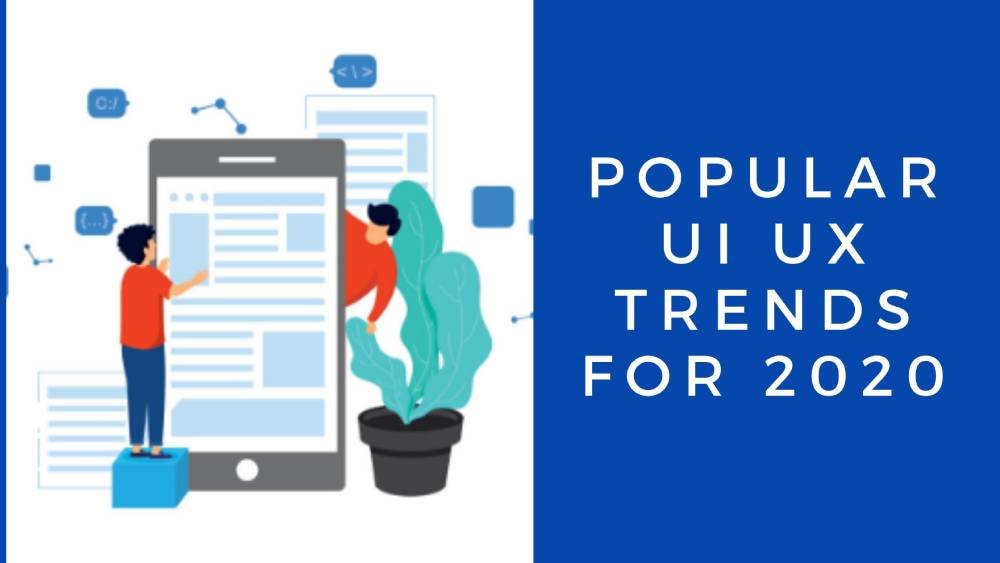 UI UX trends: In today's tech-savvy world, every customer wants to experience the best without investing anything extra. As the customer demands are evolving in recent times, it becomes necessary for a business owner to cater to their expectation level and offer an ideal user experience while standing out of the other competitors.
Well, to make things more clear, let's take an example!
What is the first thing a visitor notices on your website? Maybe it's the graphics, animations, video, color selection, images, or maybe it's the logo that grabs the attention of the customers. So, it is basically the website design that draws the customer's attention towards your website. Agree?
And secondly, another thing that can grab the customer's interest in the long run is the experience you offer to your customers- like if the website is loading quickly or not. If the website is taking too long to load, or the website doesn't offer a great fit on the customer's screen or maybe the customer is unable to find the relevant service he is looking for and gets lost while searching the website, so poor navigation, and all other factors result in disappointing the customers and they will further abandon your website and look for some other alternatives.
Well, this is where UI User Interface (UI) and User Experience (UX) come into the play and prove their true potential. Having a perfect balance of UI and UX ensures higher customer engagement and business growth- UI ensures an appealing look to the customers while UX helps in grabbing the customers in the long run and retaining the older ones by offering a great user experience.
Popular UI UX Design Trends for 2020
Today, simply search for a particular service online and your screen will be flooded with a countless number of results you can opt for. This clearly represents the level of competition in the market in today's time. If your business is unable to deliver something unique and fails to impress the customers, you stand no chance in the market and will eventually get lost in the market competition.
So, the only thing that can keep you covered and offer a great user experience is counting on UI UX design services and delivering an ideal user experience while showcasing an appealing view of your website. While you plan to invest in the UI UX trends design industry, the first thing you need to be aware of is- stay updated on the latest UI UX trends so that you can embed the same in your website as well. So, underneath I am sharing the most popular UI UX design trends for 2020.
Custom-made graphics
An image that has relevance with your business idea definitely adds value to your business that makes your business look more convincing on the customer's end. And it's not essential that you purchase stock photos that don't seem relevant to your business, rather designing your own custom graphics for your website or business is the new trend.
Storytelling
Storytelling is not only confined to conveying your business story in an appealing way to the customers. But it can even be done via color, typography, animation, and interaction design. It helps in guiding the users through the service benefits in the form of relevant imagery, thoughtful animations, and stellar typography for grabbing the customer's attention.
Dark Mode
Dark mode has already become a buzzword amongst the popular web design trends. With dark mode, we can expect a lot of new things- dark mode looks ultra-modern, enables highlighting and popping other design elements, saves device battery power, and minimizes eye strain in low-light conditions.
Immersive 3D elements
3D elements have already impressed customers for quite a long time now, but with the wide adoption of VR and AR technologies in today's time, the 3D elements are going to gain more importance in 2020 and beyond. Now, we will be able to experience the combo of both the technologies for creating hyper-realistic 3D visuals. These visuals will definitely help gain more customer engagement and business growth.
VUI
Voice user interface is another trend that is gaining momentum in 2020. Since voice chatbots and virtual assistants have already impressed us with its potential, implementing a voice user interface design is going to be the leader in the industry that will help businesses stand unique from your rivals.